What is email marketing lead generation? Email lead generation is a means of collecting leads through the use of an email opt-in form. It's all about gathering information on potential customers, such as their name and email address. But, an email lead generation strategy does not end with the lead capture form. It also involves strategically nurturing leads to ultimately transform them into customers.
Contests are another great way to get more leads. Everyone loves a good prize. Whether it's bragging rights or sought-after prizes, these will make anyone willing to provide their contact information. According to Psychology Today, competition is a natural human trait that evolved along with our basic survival needs. It's therefore a good way to increase your lead generation. In addition to the competition, the email market can also be used as a way to build trust and loyalty among subscribers.
How Email Marketers Should Focus on Design?
To generate more leads, email marketers should focus on design. They should use plain and simple fonts and use white spaces instead of large images. They should also avoid using complicated fonts or overstuffed content. This way, they can focus on the important information without confusing or distracting their audience. This is a good example of a well-designed email, which focuses on the main information. It is also very effective for increasing sales.
Make Offer for Your Email Marketing Leads
Another way to increase email marketing leads is through a free trial offer. When a user signs up for a free trial, they are more likely to convert. That means they have an interest in what you're offering and are more likely to buy it if they want to learn more. A free trial will help you determine whether your email content is appealing to readers. Ultimately, the results will tell you how much more money you can make from it.
5 Benefits of Email Marketing for Lead Generation
According to a study by the Direct Marketing Association over half of the marketers surveyed cite email as the marketing channel that delivers the best return on investment. Despite the benefits of the email marketer, not all companies understand the importance of this effective tool. Here are the five advantages of using email marketing for generating leads.
Generate Awareness
Cultivate Relationships
Build Credibility
Automate Marketing
Increase sales
How to Write Effective B2b Lead Generation Emails
B2B lead generation emails are being utilized more than ever in marketing. The sudden increase in their use is closely tied to the utility of emails. For a long, emails have been utilized as primary tools for marketing and also communication. 91% of businesses use emails to create demand. It's quite effective, efficient, and has a wide outreach as compared to other tools used in marketing and communication.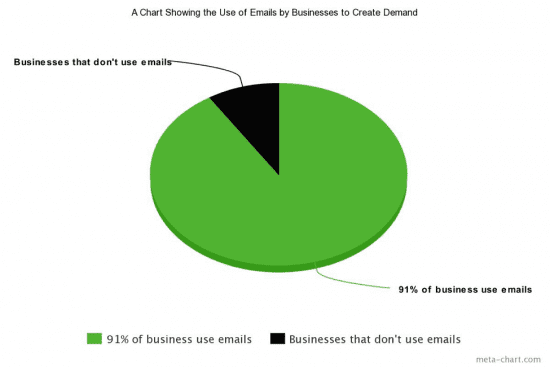 As much as emails are used on a daily basis, knowing how to write one to a good standard is quite a task. This is because the recipients are diverse, having different personalities, different needs, varied attitudes, and specific preferences. Thus, crafting a B2B lead generation email that has an impact is more involving and may require adherence to specific guidelines. The ulterior motive is to avoid the emails being put away or disregarded by our target recipients.
Build Relationships With Your Leads
You will be able to build relationships with your leads and increase your sales. Those who have subscribed to your newsletter will be more likely to purchase your products. If you have a special offer, this will help you build rapport with your prospects. They will be more likely to purchase from you if they feel that you're a good fit. This is a great way to boost email marketing leads and increase sales.
In the email marketplace, you can track the performance of each campaign. This will show you how your emails are performing and which pages are getting the most attention. In addition, you can use tracking tools to determine how many people open each email to see which ones convert best. If you're sending your emails to your existing email subscribers, you can use these leads as leads and reward them for their loyalty. This way, you can generate more sales and revenue.
An email campaign's success is dependent on the quality of its content. A high-quality email campaign will make the conversion process much simpler. The benefits of email marketing lead generation will be evident to the subscribers. You can use tracking tools to identify the success of each campaign. With this, you'll be able to see which emails are working better than others. Your leads will also be more engaged in your newsletters.
You can make email campaigns more effective by leveraging the opt-in data in your database. If your emails are appealing to your target audience, they will open them. If your content isn't interesting to them, they won't read your emails. They will just skip them. A high-quality email campaign is the most successful way to create more leads. If you have the right content, it will make your customers happy.
A well-written email is the best way to engage your audience. Most people open emails in the morning. You can make your emails more relevant to their interests by offering them special offers. You can use a newsletter to recycle your existing content. In addition to that, email marketing lead generation allows you to customize your messages to meet the specific needs of your subscribers. It is also a great way to attract new clients. You can send newsletters to your subscribers.
Clearly Defined Goals
You can use email marketing to achieve many business goals. For example, you can use email marketing to:
drive sales
boost brand awareness
generate and nurture leads
keep customers engaged
increase customer loyalty and lifetime value
To execute an effective email marketing campaign, your email list, ESP, and goals must align. Then, you can get to work.
The first step is to segment your email list according to subscriber demographics or actions.
Next, create an email or series of emails designed to get consumers to do something (your goal).
Finally, use your ESP to send emails and monitor the campaign automatically.
Conclusion
We showed the benefits of email marketing and how can you have a positive outcome on sales, marketing, advertising, and any other related field provided the above-highlighted tips are carefully implemented.